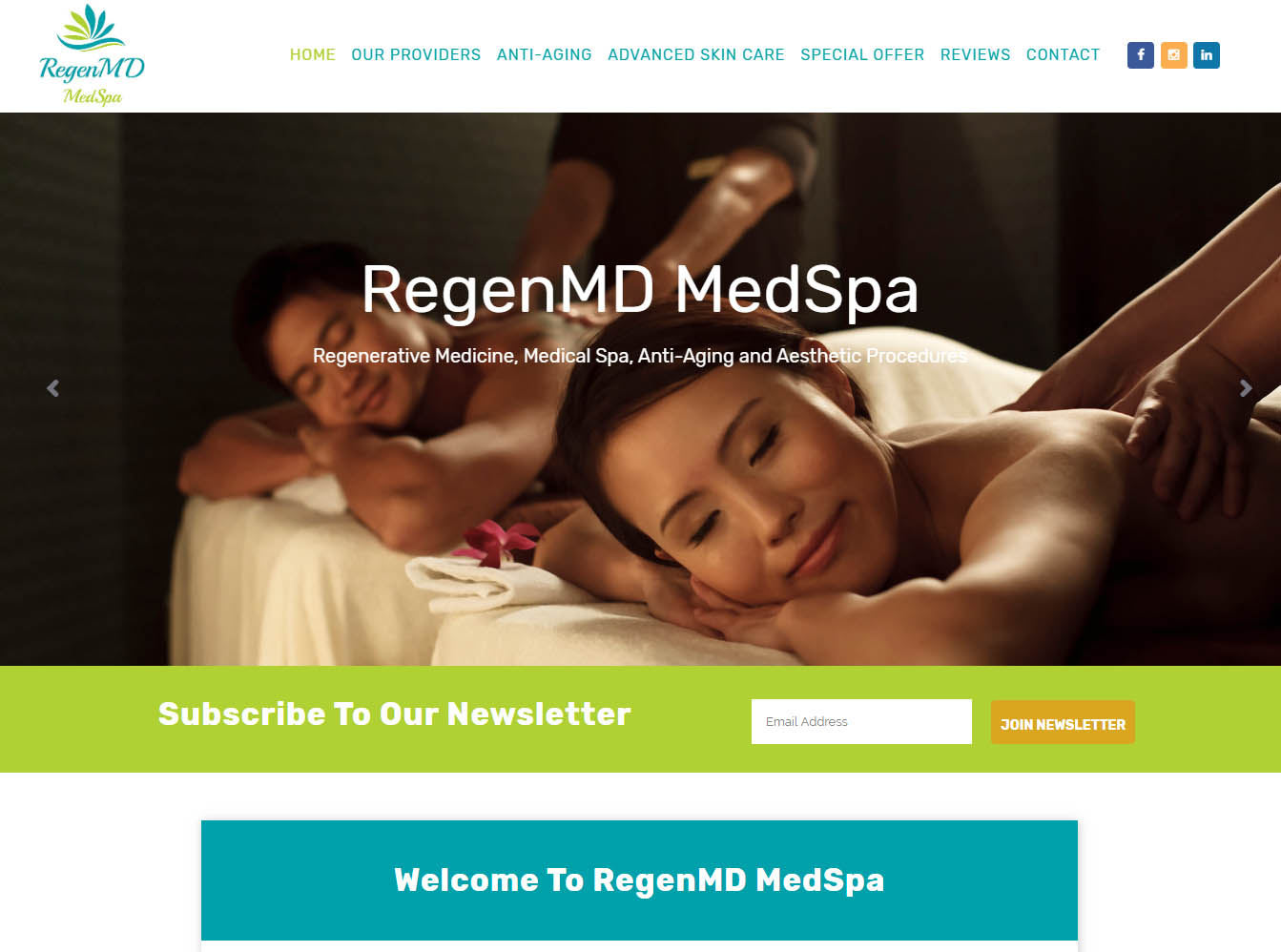 14 Oct

RegenMd MedSpa

RegenMd MedSpa is an aesthetic medical company that offers a full range of aesthetic services, laser skin care procedures, medical spa services, and Regenerative Medicine procedures.

We created the website having 7 pages including dedicated pages for each of their services category. The landing page has a catchy, interactive abd communicating banner with a brief text describing the services of the company. And a "subscribe to our newsletter" section for getting customers emails to engage them, which is a good way of generating leads.

A box designed section that briefly describes the company and what they have to offer their clients, this section has the company logo standing by the left of the section and symbolizing trust.

A clear "+" layout design for the services they render with interactive images which adds overlay and transitions on hover. with a "more info" button which is linked to the main services page.

It has a section with a call to action button for those who need the direction to their company and beneath it is a strategically placed bold contact information and a form for customers to drop messages or request more info about the company's product.

It also has other pages including dedicated pages for their services with a great layout, A special offer page which has all information about the company's special offer, a reviews page where customers can check previous reviews dropped by customers and can also drop theirs after patronage and a contact page where all contact information of the company can be found.

Social icons are placed at the top of the website linked to each social page of the company.
Important features
Reviews Page(Customers can add and see other reviews)
Newsletter Signup
Catchy Banner
Strategic positioning of CTA buttons
Social media integration
Static call to action phone icon which shows on all device
Cross browser compatibility
Responsive on all devices
Advance Combination and Use of Brand colors
Comprehensive Contact Page